Students are always asked to make presentations to deliver their ideas in classes, especially English, Chinese, marketing and practice lessons. However, some of students are worried about behaving badly and making a boring presentation. In this case, how to make a visual presentation to focus teachers and students' attention effectively? How to apply an interesting way to make presentation? Try Focusky to change everything.
This professional presentation software creates professional looking results in minutes. It provides a creative and modern way to display your content vividly to your classmates and teachers. The dynamic content design will certainly impress them. Start your journey to spark ideas freely in killer HTML5 presentation.
3D Presenting Style Arouses Interest Easily
Focusky is a new type presentation software that have gained popularity and will be a popular trend for students. Since students always show their focus on those funny and fresh things, then this software benefits you to stand out among classes with non-linear presentation.
Differ from traditional PowerPoint's slide-to-slide presenting style, this gorgeous presentation software provides 3D transition effect to display content. You can fully organize your ideas in the limitless canvas, with zooming, panning and rotation, your content can be visually displayed to the classes. Moreover, a path of discovery in mind mapping will arouse interest easily. The logical and clear content delivering make teachers and students understand your ideas with ease.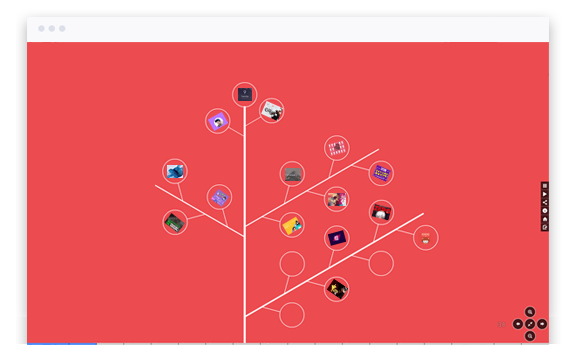 Animation & Interaction for Wonderful Content Delivering
Focusky shows great charms with tons of amazing features and beautiful examples on its official website. It is free to use while increasing efficiency and productivity. You can make this gorgeous presentation software as your weapon to be outstanding. With exquisite content well-organized, adding animation and interaction in presentation will leads to dynamic presenting results.
◎Animation
There are 300+ animation effect for perfectly displaying your presentation. Entrance, emphasis and exit effect will make your content rich, which is effective to increase teachers and students attention and make them focused on your important points easily. Simply select your content, choose an amazing animation effect and custom the animation duration and delay time with ease.
Make full use of the build-in action path to deliver your content. Apply the animation effect to individual path for making presentation present in an outstanding way. This free presentation software is gorgeous to display the boring contents in an interesting way.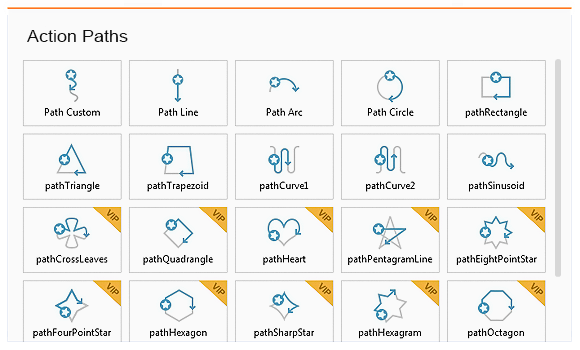 ◎Interaction
Adding interaction in presentation is another powerful way to capture attention. Selecting action object and mouse operation while choose a trigger object and its trigger behavior will make your content presented engagingly. The wonderful content delivery is significant to resonate classmates and teachers. They will speak highly of you with such a unique presentation experience.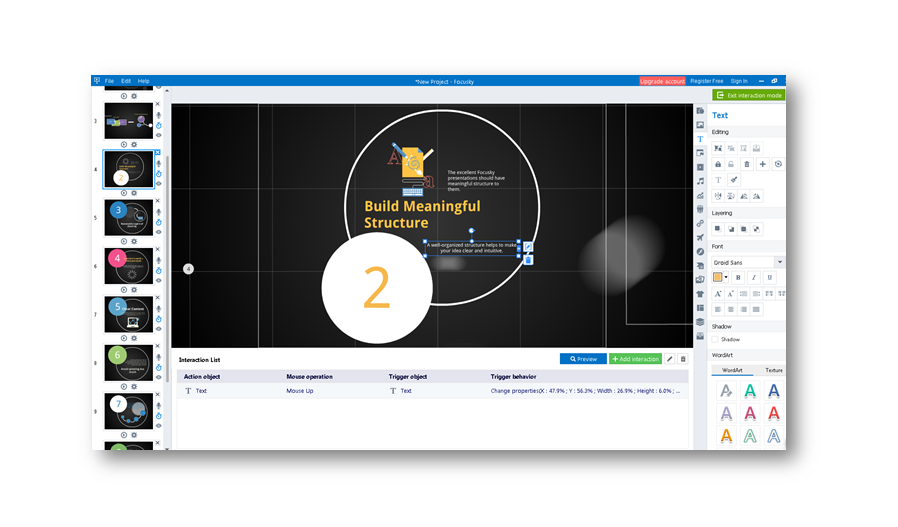 Mobile APP to Access Your Presentation Anytime and Anywhere
It is sure that delicate presentation will be shared and reviewed times by times. Focusky provides a powerful mobile App feature for convenient reading your presentation anytime and anywhere. Students can install the app, after publishing amazing presentation as mobile type (.mfs), then all students can watch, access and present your presentation online and offline.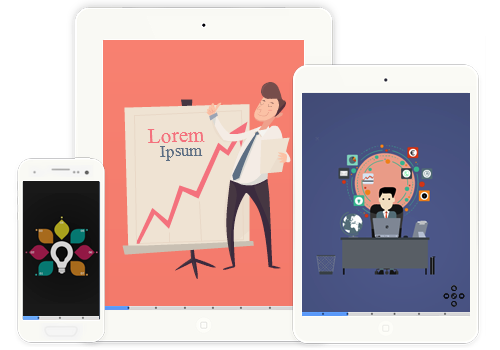 In all, Focusky is as the right choice for students to stand out in classes. The innovative presenting style and unique content organized is beneficial to capture attention and make classmates focused. This professional presentation software not only fits in education industry, but also makes a difference in economy, business, culture, food and more. Strat to shine the world with your best presentation!